In 2017, Gopher Athletics created a new, one-of-a-kind program to celebrate Gopher fans and supporters, the Gopher Loyalty Program.
Unlike anything else in college athletics, this experience-based program welcomed fans to pick experiences with Gopher Athletics that they wanted most, creating personally customized loyalty rewards packages. We wanted Gopher fans to build lifelong memories with the University of Minnesota based on their own interests and passions and we saw that in the program's first year. Moving forward, we are continuing to add more and different experiences for Gopher fans.
The Gopher Loyalty Program is available to every season ticket holder for any Gopher sport, and every Gopher Athletics supporter. If you support the Gophers, you have access to unique benefits as a member of the Gopher Loyalty Program.
Engagement Opportunities with Coaches & Student Athletes
Minnesota is home to some of the most successful coaches and student-athletes in the nation. Enjoy exclusive, behind-the-scenes engagement opportunities to get to know these outstanding coaches and student-athletes.
Family Fun Events
Our Gopher Athletics family wants to host your family! Join us for family friendly events like "Movie Night at Huntington Bank Stadium." Make it a tradition to share your passion for the Gophers and make new memories with your entire family each year.
Exclusive Discounts
Support the Gophers and save money! As a loyal Gopher fan, you will have access to exclusive discounts throughout the year. Take advantage of a variety of specialty offers only available through the Gopher Loyalty Program.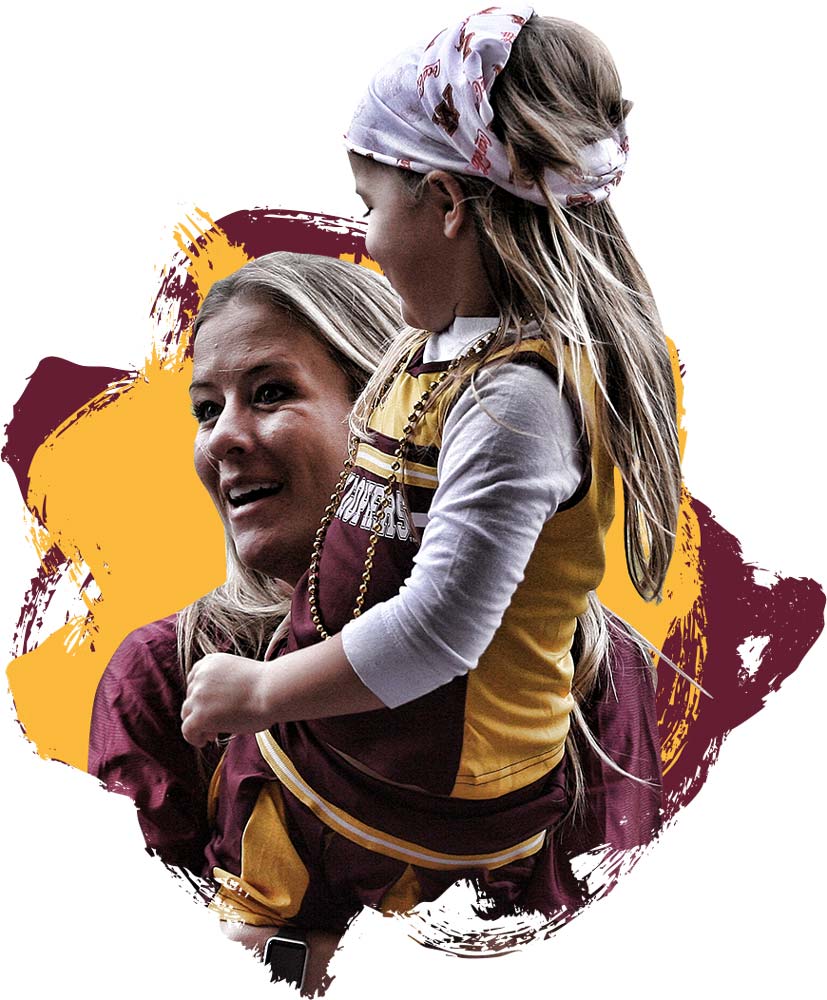 What makes the Gopher Loyalty Program different?
Customized to You
Previously, Golden Gopher Fund supporters received a pre-assigned set of benefits. The Gopher Loyalty Program ditched this one-size-fits-all approach. Now, everyone with a Gopher Score has access to an expansive menu of benefit options.
Inclusive to All
Old benefit programs only included Golden Gopher Fund supporters. The Gopher Loyalty Program is much more open, welcoming everyone who has a Gopher Score - all supporters and all season ticket holders to any Gopher sport. Starting your Gopher Score is as easy as making an annual gift of $50.
Unique to Minnesota
No other college athletics department rewards its fans like the Gopher Loyalty Program, which provides a customized experience where every fans selects the benefits most important to them. While everyone else continues to do more of the same, we have given fans more choices than any other school in the country.
Access to purchasing parking and complimentary club room passes will remain unchanged and will continue to be provided to fans based on annual fund contributions.
Each fan is unique. They have different reasons why they're a part of Gopher Athletics. We recognize that fans have different needs and wants. That's what's so great about this program – every fan can customize it to include what they want. It's a program made for our fans, dedicated to our fans, and committed to improving their experience with Gopher Athletics.