Provide an Outstanding Collegiate Experience
Scholarships
Note: Pictures/content from the scholarship dinner and/or general academic material?
Note: "The experience I had here at Minnesota was life-changing. I cannot accurately express through words how exceptional my time here was, and how grateful I am to those who made this possible. I was blessed and fortunate enough to be challenged daily in the classroom, to compete at the highest level athletically, and to be immersed in a community that invested in my personal and professional success. The U has changed my life, and had it not been for the scholarship I received, none of this would have been possible."
A quote from an underclassmen, high-achieving student-athlete expressing gratitude for their experience?
Lasting Legacy of Support
Scholarships
---
Annually, Gopher Athletics raises $13 million to support the 324.4 scholarships offered to Gopher Student Athletes each year. Personal investment in scholarships is instrumental in ensuring the Gopher Athletics ability to cover the ever increasing cost of tuition and fees so that student athletes can focus on excelling academically, athletically and socially.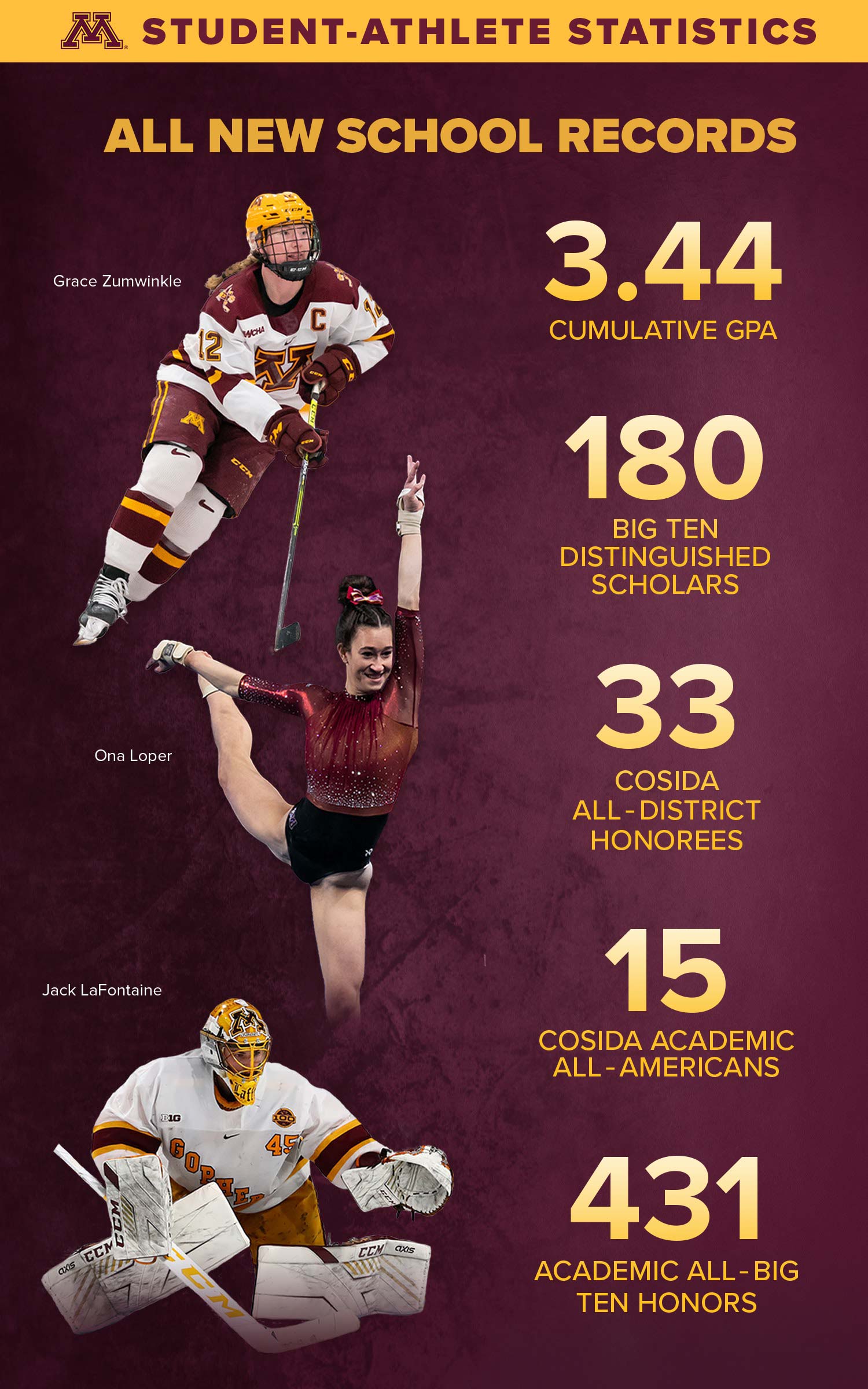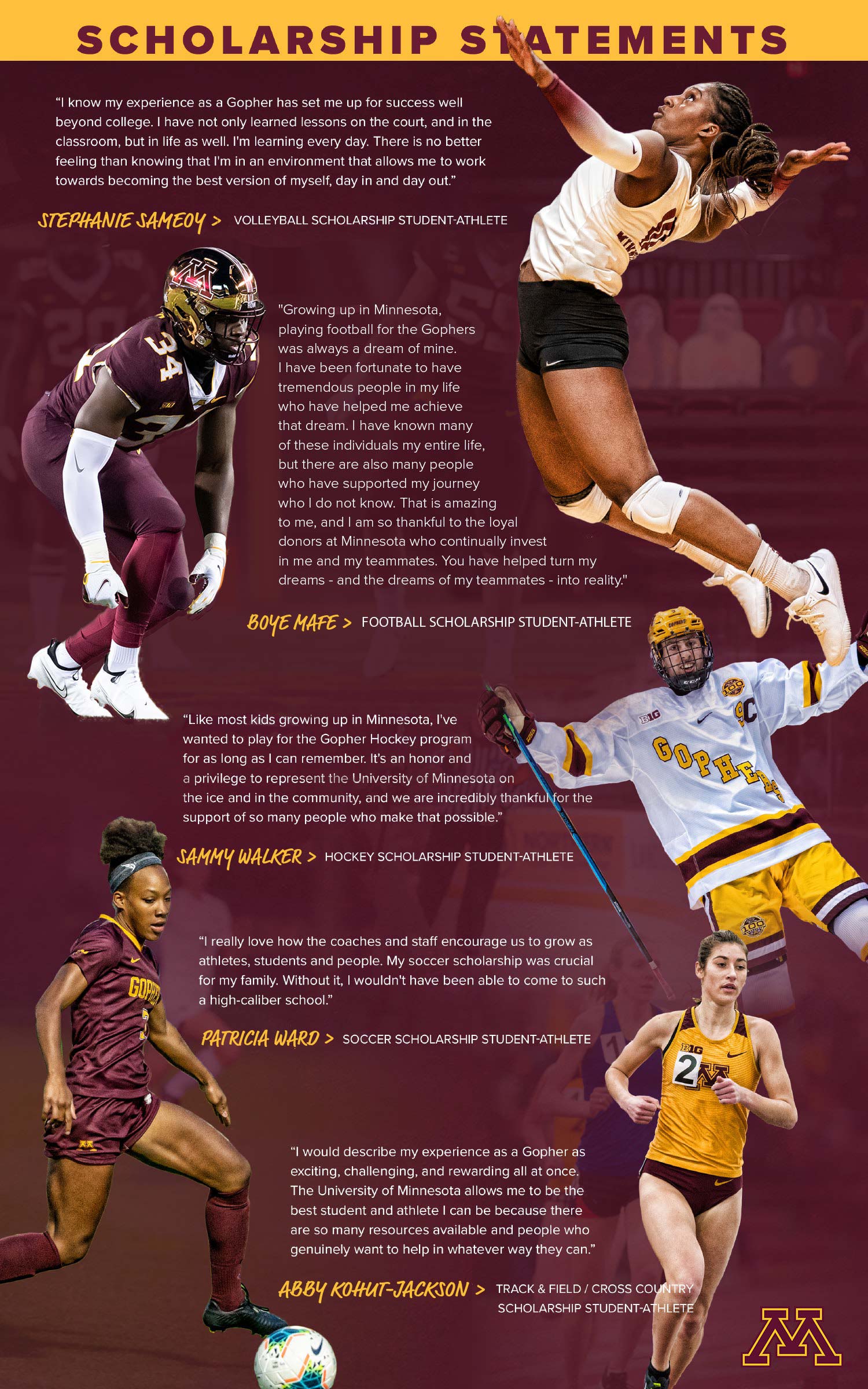 When you purchase tickets in our scholarship seating areas it provides critical funding to create a complete collegiate experience for our Gopher student-athletes. Scholarship seating includes the prime seating locations for football, men's hockey, men's basketball, women's basketball and volleyball. By purchasing these tickets you also provide a contribution, where the funds go directly to support student-athletes. Your investments help us to tackle our ever growing student-athlete support costs which have grown dramatically in recent years with new NCAA rules allowing us to provide more than ever to our student-athletes.
Endowment Scholarship Funds
Endowments are a lasting legacy of support for Gopher student-athletes. The initial investment is preserved as principal and the interest produced by this investment is used to support Gopher student-athlete scholarship costs, notably tuition assistance, textbooks, and room and board. Endowed scholarships are long-term investments in the University of Minnesota and our student-athletes. They provide essential financial support for students year after year, generation after generation. Because an endowed scholarship lives in perpetuity, it provides a meaningful way for supporters to leave a lasting legacy — in their name or the name of a loved one — in support of Gopher Athletics. An endowment fund can be opened with an initial investment of $50,000. A fully endowed scholarship at $750,000 covers the educational costs for one student-athlete.
How an Endowed Scholarship Works
When a supporter establishes an endowed scholarship, the contributed funds are held and managed by the University of Minnesota Foundation (UMF) and invested by UMF Investment Advisors (UMFIA), a nonprofit subsidiary of the foundation. The investment and spending policies for the endowment are set to achieve maximum impact for the long-term and ensure that gifts are used according to supporters' wishes. Our long-term goal is to fully endow all of our scholarships, creating a sustainable system where your investments in scholarships can provide an outstanding collegiate experience for generations of Gophers. Currently, endowments cover only about eight percent of our annual scholarship investment.
Endowed Scholarship Levels
---
The Legacy level endows a full athletic scholarship
---
The Gold level endows half of an athletic scholarship
---
The Maroon level endows a portion of an athletic scholarship
An example of how an endowed scholarship works:
---
COMMITMENT FROM SUPPORTER*
RATE OF RETURN (hypothetical)
---
---
$13,500
Amount made available for scholarship**
$4,500
Amount reinvested into principal
---
UMFIA's investment goal is to achieve an annualized return of 5% in excess of inflation. The return is intended to cover the spending rate as well as the administrative fee (currently 1%) to ensure permanent endowment value.
* A minimum gift of $50,000 is required to establish an athletic endowed scholarship.
** A portion of each endowed fund's value, currently 4.5% of the fund's average market value over the previous 20 quarters, is made available each year to support the fund's designated program.
2021-22 Scholarship Recipients
Gopher Athletics is proud to present this year's scholarship recipients. Thank you to our generous donors and supporters whose contributions continue to change the lives of our student-athletes through endowed scholarships.
You can also view the list organized by scholarship name.
| Recipient | Endowed Scholarship Name |
| --- | --- |
| Recipient | Endowed Scholarship Name |
| --- | --- |
| Recipient | Endowed Scholarship Name |
| --- | --- |
| Recipient | Endowed Scholarship Name |
| --- | --- |
| Recipient | Endowed Scholarship Name |
| --- | --- |
| Recipient | Endowed Scholarship Name |
| --- | --- |
| Recipient | Endowed Scholarship Name |
| --- | --- |
| Recipient | Endowed Scholarship Name |
| --- | --- |
| Recipient | Endowed Scholarship Name |
| --- | --- |
| Recipient | Endowed Scholarship Name |
| --- | --- |
| Recipient | Endowed Scholarship Name |
| --- | --- |
| Recipient | Endowed Scholarship Name |
| --- | --- |
| Recipient | Endowed Scholarship Name |
| --- | --- |
| Recipient | Endowed Scholarship Name |
| --- | --- |
| Recipient | Endowed Scholarship Name |
| --- | --- |
| Recipient | Endowed Scholarship Name |
| --- | --- |
| Recipient | Endowed Scholarship Name |
| --- | --- |
| Recipient | Endowed Scholarship Name |
| --- | --- |
| Recipient | Endowed Scholarship Name |
| --- | --- |